90th Anniversary: School Architecture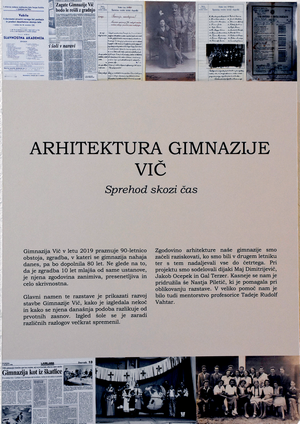 Within our school system, students in the 2nd year of the gimnazija programme are expected to work in small groups within their class on a project, the topic of which is different every year. For our generation, this topic has been the 90th Anniversary of Gimnazija Vič, as preparations for the 90th anniversary of our school, which was celebrated in 2019, were already in full swing.
Each group was able to choose what aspect of the rich history of Gimnazija Vič it was going to look into in more detail. Students chose a variety of different subtopics ranging from ones about education and culture at the school through the years to some about the school's most famous and renowned students.
My group decided to choose the subtopic 'The Architecture of Gimnazija Vič' which involved a lot of research to obtain as much information as possible about the school's architectural history. We visited different archives and discovered an astonishing number of blueprints, some of which nobody even knew existed. Our group was also aided by many former students and teachers who provided us with the information we needed to fill in the blanks about the history of the building in which the school has been located for 80 years. This allowed us to write an extensive report on the interesting and sometimes even mysterious architectural history of Gimnazija Vič.
After we completed our assignment and handed in our report, it was decided that an exhibition was to be prepared to commemorate the 90th anniversary of the school. The three students that made up the group, Maj Dimitrijevič, Jakob Ocepek, Gal Terzer, and our mentor, Ms Tadeja Rudolf Vahtar, began working on the text that was to be used for the exhibition, and were later also joined by Nastja Piletič, who was tasked with the design element of the project.
The result of the hard work put into this project was a well-received exhibition covering the 90 years of the architectural history of Gimnazija Vič which was displayed at Slovenia's main cultural centre on the evening of the 90th anniversary concert. Since then, the exhibition has also been displayed in Ljubljana's Town Hall, and has also gained a permanent place in the school itself. We have also been delighted to hear that our exhibition will also be displayed at the National Assembly Building of Slovenia, as the building of the National Assembly of Slovenia and the building in which the school has been located since 1939 were designed by the same architect.
Maj Dimitrijevič
Member of the Architecture project group