Language Week 2021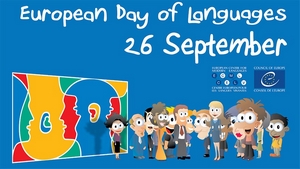 The European Day of Languages is marked every year on 26 September and our language departments at Gimnazija Vič used this special occasion to organise a week of activities for all of our students.
Languages play a major role at our school with classes available in Slovene, English, French, German, Spanish, and Italian. In addition, there are usually after-school courses organised in several other languages for those who have a particular linguistic flair or passion. We are happy to be able to say that several of our departments also feature foreign teachers who are native speakers of the languages they represent.
For this year, the activities included special classes for different groups in which our teachers were able to cover aspects of the language for which there might not usually be enough time in the regular schedule. One of the popular choices this year was for our fourth-years in which they could get more experience of the different accents and dialects from around the UK.
The school's UNESCO Club got involved as well with the creation of a number of posters which went on display in the school's entrance hall. Each one focused on a different language taught at Gimnazija Vič and the students dealt with ideas connected to language, history, and culture.
The cultural link continued with everyone getting the opportunity to hear specially compiled playlists representing the different countries. From traditional French chansons to German hard rock, there was something available for those of all types of musical tastes.
Thanks must also go to our canteen team who worked hard through the week to come up with special menus to allow our students to have a taste of the cuisines of other countries. From sandwiches and rolls in the style of a British afternoon tea to a selection of traditional Spanish empanadas, there was something new and delicious available every day through the week for us all to enjoy.
All of the different projects and activities came together to create a language-based week which was very popular with our students. It also proves the value and importance on working to create an atmosphere in which subjects can be appreciate and enjoyed outside the traditional classroom setting.
We would like to thank everyone involved in our Language Week for making it such a success and look forward to working together on similar cultural events through the school year.